Shelly Atwood – Why I like living in Portales?
I love living in Portales for many reasons. Having the comfort in knowing that my family and friends are close and we get to spend quality time together is probably the most important to me personally. Outside of my family and close friends I love the community bond that Portales has to offer.
I am overwhelmed by the gratitude and friendliness that our businesses offer and the customer service they provide. Having the personal relationships in a community provides for greater experiences as we shop for our needs each day. I value the locally owned businesses and how each one of them seeks to serve our community. As a community I believe that we not only fellowship in our church homes but we have the camaraderie and companionship to fellowship in the local businesses as we pay our bills, go out to eat, buy lumber, insurance, appliances, etc.
We live in a community that cares about our children. Our teachers not only teach our kids but they love them and care for them too. I find security and comfort knowing that we have business leaders in our town who are sincere and true in their positions and they are not in it for their own glory and satisfaction. I truly believe that our town leaders and business leaders are concerned for the betterment of the people and the community. I take pride in being a resident in Portales.
Shelly Atwood
---
Kim Bryant – Why I like living in Portales?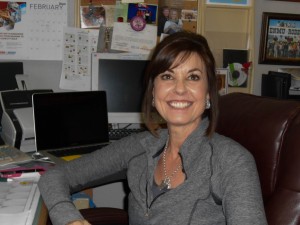 Kim Bryant has been a proud citizen of Roosevelt County for 47 years. Kim and her husband Kirk manage a branch of Crop Production Services in Portales.
"Local businesses in Portales are really part of the community. It's that personal touch, that connection that makes it feel like home wherever you go around town," says Kim.
"We are seeing many established businesses shutting the doors permanently and this affects our friends and neighbors who are employees of these businesses. So in essence it affects all of us. Supporting each other and keeping our commitment to local businesses is important."
"I know when I have a question about my phone or internet services I can pick up the phone and call Yucca. There's comfort in knowing that when you need something or have a question you can call and speak to someone who cares about you."
As business owners, Kim and Kirk Bryant keep their customers' best interests in mind. "Kirk as a salesman, if he doesn't feel like something is going to make the customer money he doesn't want to sell them the product. Even if the business would benefit he will not make the sale. He believes in taking care of each other. The customer comes first."
Kim Bryant
---
Shawn Bohm – Why do I love Portales?
I love the privacy and peace of living in a more isolated area. We love to raise animals and spend time with our kids. My husband, Jon and I have two lovely children, Leslie and Bryce. We have always kept them involved in sports and FFA. We have taught them value of giving to things and people other than themselves. Playing sports Leslie learned what it means to work together as a member of a team. Bryce and Leslie learned to take care of the show animals, train them, feed them, and they were disciplined enough to take care of their individual responsibilities.
Rural community living may seem boring to some people but not our family. Even though we have our responsibilities at our home we still love the conveniences of going to town and doing business. Jon and I own a construction business, Jon Bohm Construction; we understand the importance and value of excellent customer service. In our business, it is important to make sure the customer is always taken care of and never feels the intensity and pressure when we face a challenge in the re-modeling of their home.
We understand the importance of patronizing locally owned businesses. Local businesses employ our friends and neighbors and we want everyone to be successful in whatever their career choice might be. When we go into the local businesses in Portales, people know us and like us. They deliver a smile and professional customer service. This is what people want and expect.
These are the reasons I love my job at Yucca Telecom. I love having the opportunity to offer a smile and a service that will enable a family to have quality of life and experiences of the best internet services in town. We have the luxury of living where we want to live and also having the conveniences of the urban area, but we get a smile, a handshake, an honest face to face conversation with people who care about us. That's why I love living in the Portales.
Shawn Bohm